---
This page unfinished... このページは書きさしです
In trial and error / 試行錯誤中
h-Bass is; halfmiles or hag me - Bass
(The latest plan is indicated on an end of this page.)


---
---
Mostly wood from Hokkaido and domestic
Hollow neck and body
Have a sit-down then play
大体北海道と国内の木でできている
ホローネックとボディ
座って弾く
---
---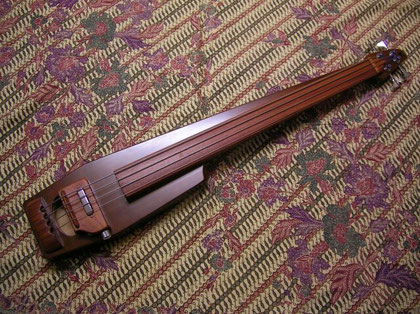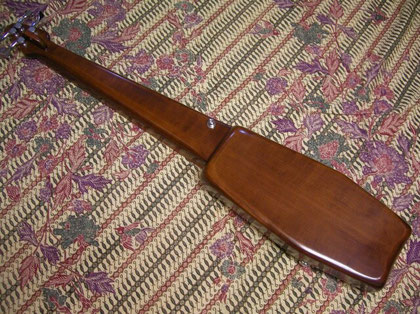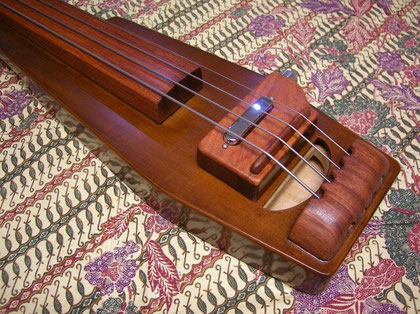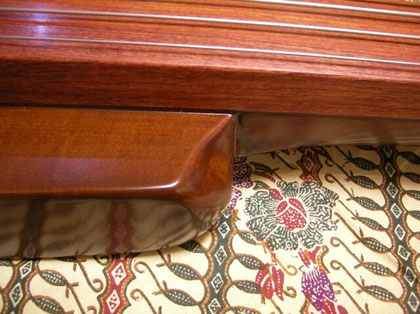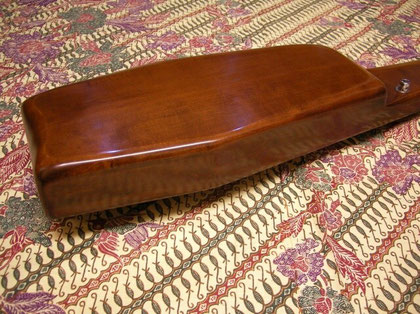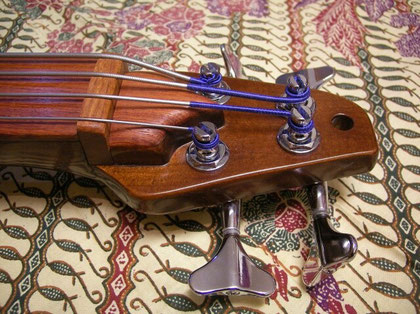 ---
---
The Lap-top style plan lay aside for some time. Investigate big-one / 膝の上で弾く考えは一時保留。大きいものを考える。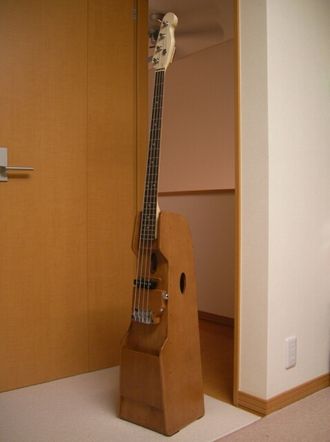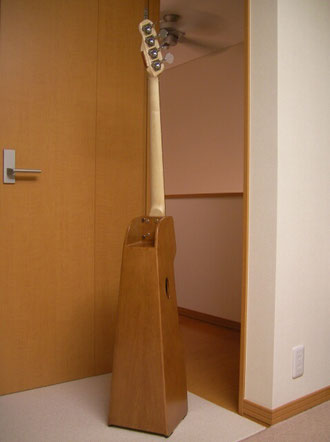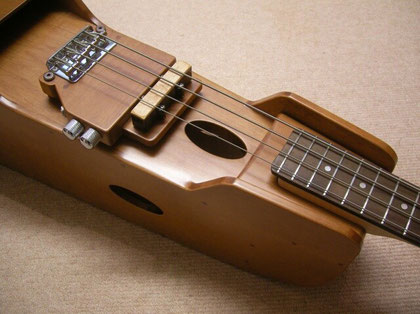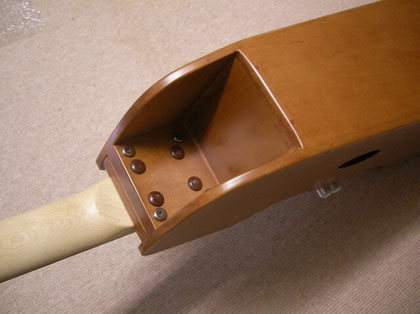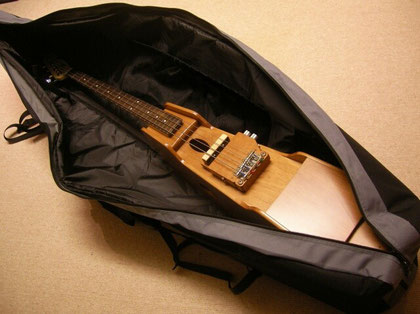 Suitable to play with chair
It can be used for Coffee cup table to rest in long solo performance by guitar player in a lordly manner
If the performance is too long, it helps for sleeping
If angry, roll it instead of Cajón. Itaya Kaede gives great sound! This is useful in getting rid of stress
座って弾くのにちょうどいい
長いギターソロでの休憩時間にはコーヒーテーブルになる
長いギターソロの間に寝れる
頭にきたら、カホンの代わりに叩きまくってストレスを発散する
---
---
A revised model by the opinion and the proposal. Slim body, long fret-board. Legs for standing play style.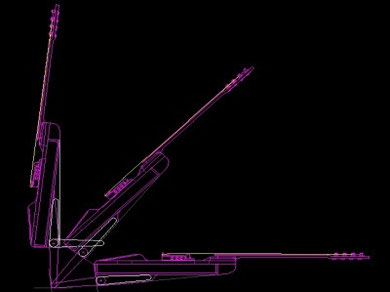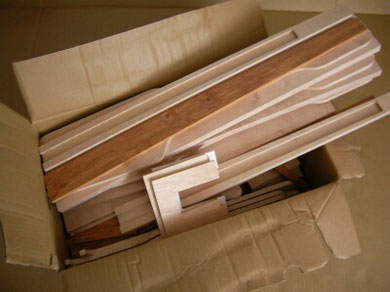 ---
---
Features
Stands Itself
Separable
Double Bass like string scale
One Box Circuit Assembly
T-Bar Neck to reduce a vibration
Playable using strap
Real Walkin', Runnin' and Skip Bass...
自分で立つ
分離できる
ウッドベースのような弦長
箱に収まった電気類
ネックの振動を抑えるTバーネック
ストラップを付けて演奏できる
歩けて、走れて、スキップできる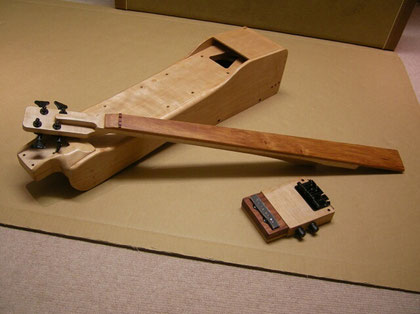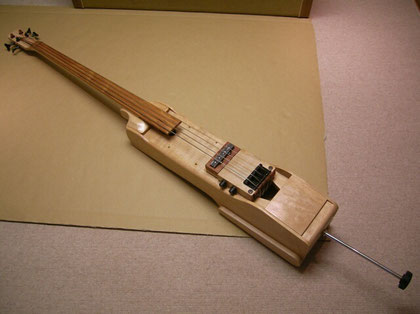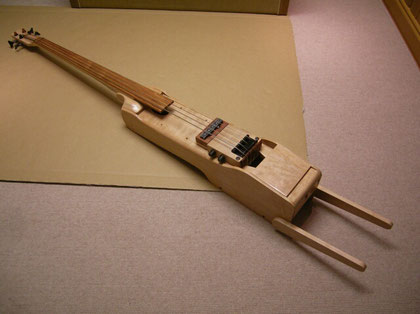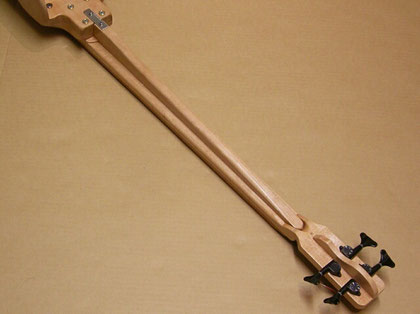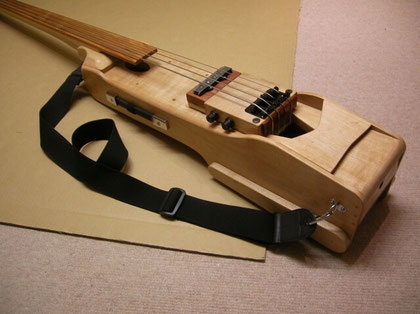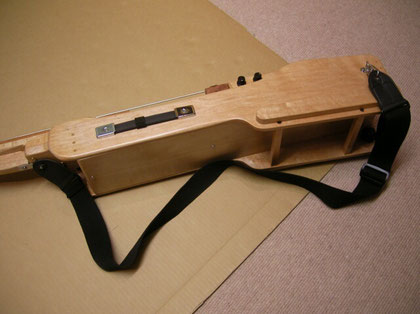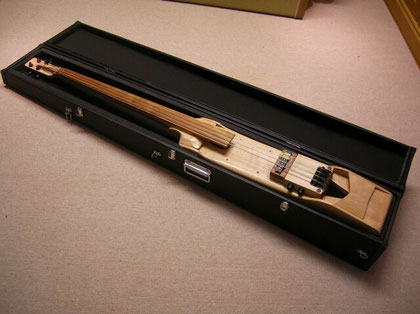 ---
---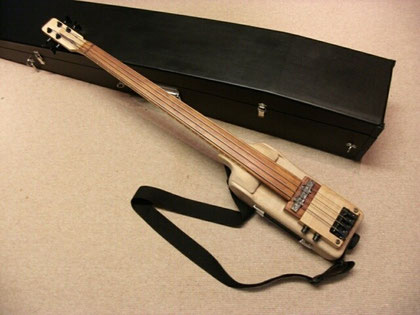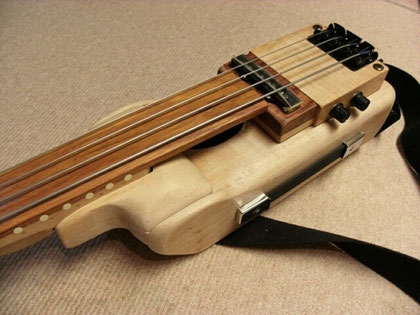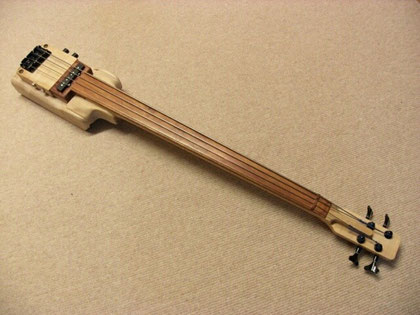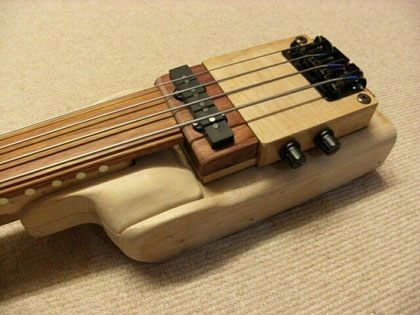 ---
---
Parts are put on the chopping board.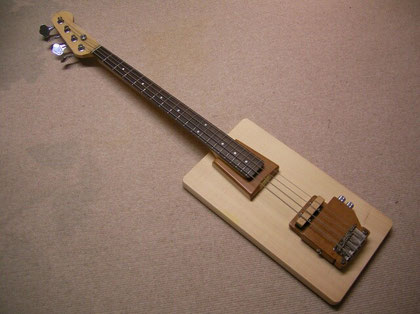 Neck Mount Block, Bridge/PU box and Arm/Hand rest block are fitted with Screw Bolt from back.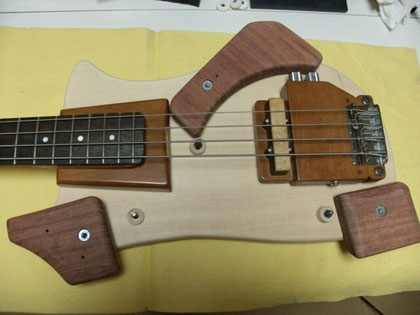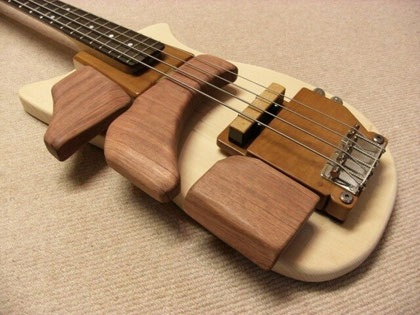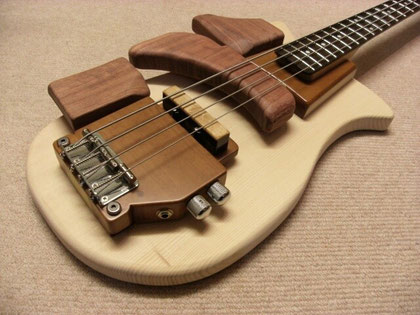 ---
---
Upright style in mono-pod leg. Shortscale with fretted neck.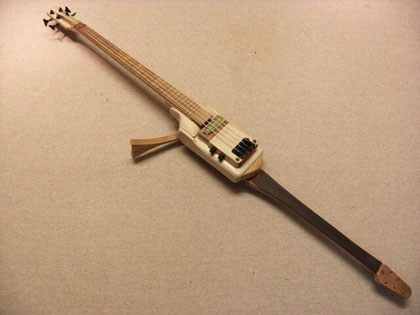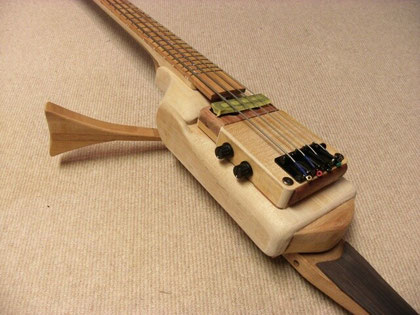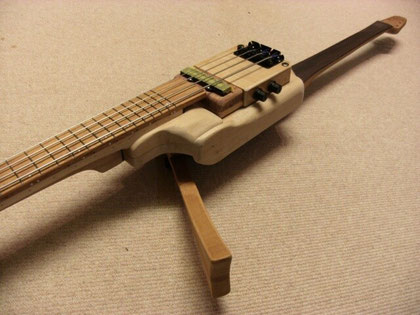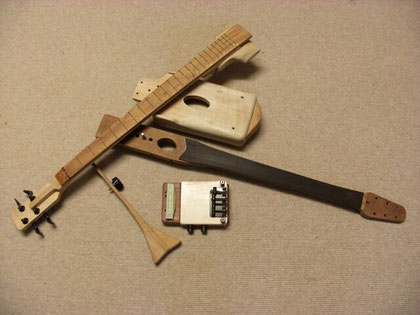 ---
---
Upright style with mono-pod leg.
Shortscale neck with frets.
Bolt-on joint Peg head.
Removable truss-rod.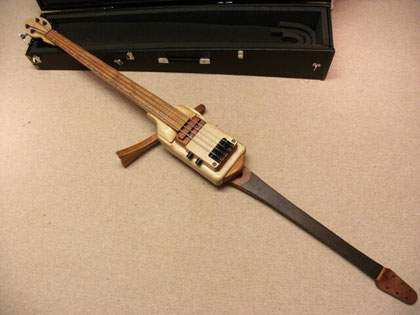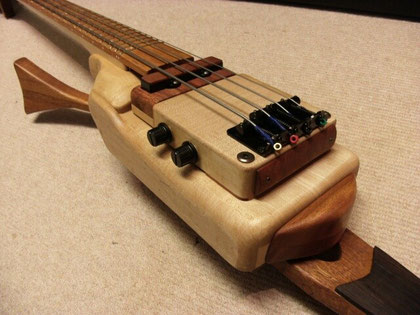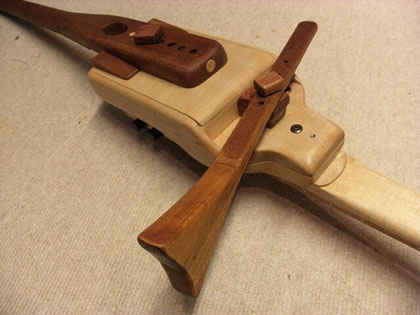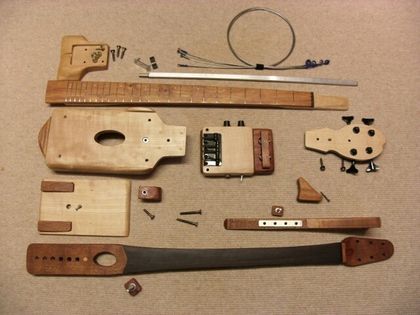 ---
---
Back wing wood supports various play style in chair, standing and upright. No mono-pod stand.
Small body but big resonance.
Short scale but fat sound.
Low tension but sound bright.
Short scale but regular scale string can be used.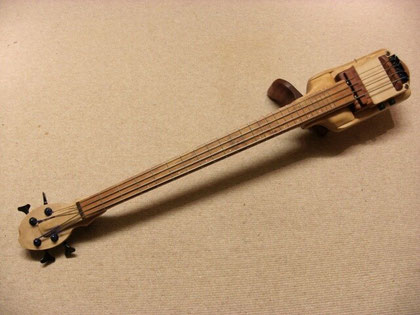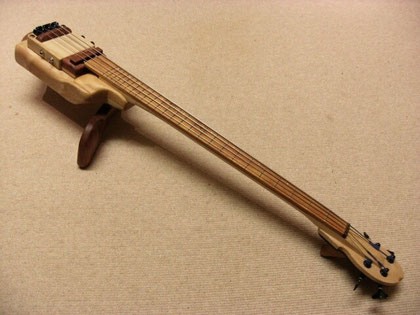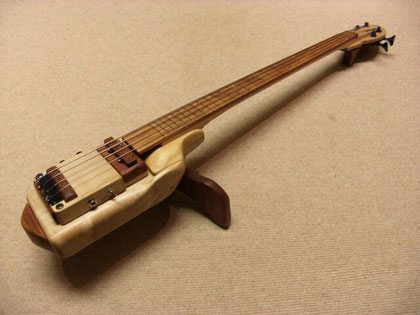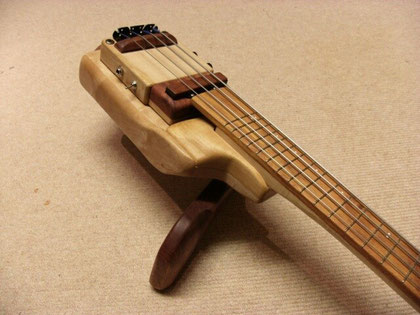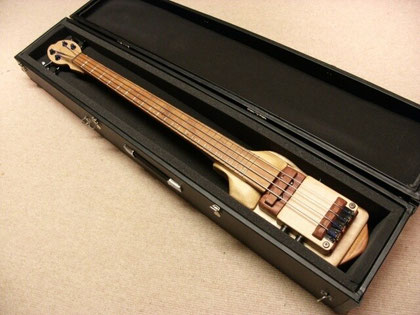 Latest Pics added on June 2013.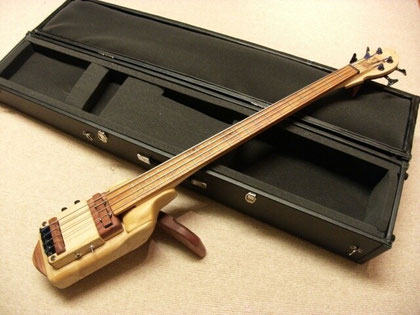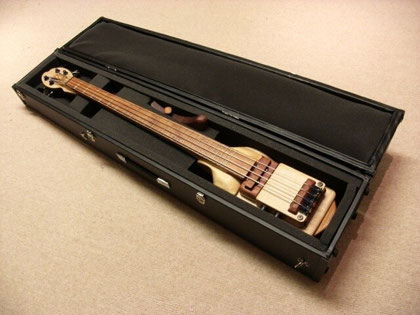 ---
---
This is a mock-up model for checking the weight blance.
Solid body bass from Plan-B style which is using Back wing wood. Fit to plays at standing, in chair or vertically as Upright bass.

High height string from body surface as Upright bass. Bright sound, I guess.
Bolt on style neck and body joint as Fender Bass style neck (Regular scale).
Fat finger ramp.
これはバランスや重さをチェックするための実物大モデル。
単板のベースで、Plan-B のようなバックウィングを付けてます。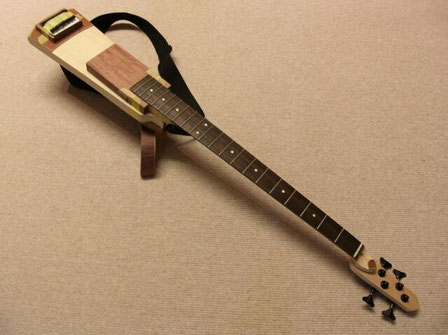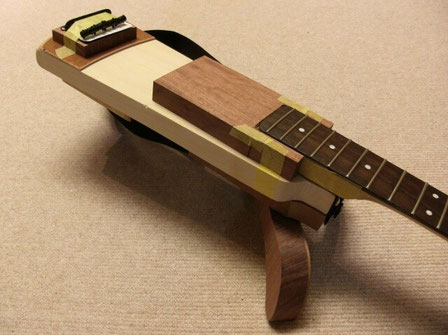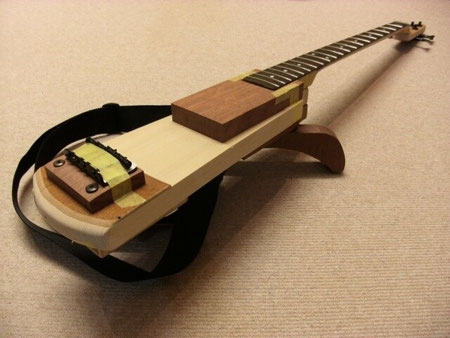 ---
---
Concept
Disassemble/Assemble by a bolt.
Part replacement is easy.
Normal to Upright, free playing style.
Floating body (by back wing).
Others
The body shape of the necessity minimum.
Light-weight spruce body. The back is a maple board.
Fender scale neck.

コンセプト
ボルトにより、分解と組み立て可。
パーツ交換が容易。
通常からアップライトスタイルまで、自由なプレイスタイル
浮いたボディ(バックウィングによる)。
その他
必要最小限のボディシェイプ。
軽量なスプルースボディ。カエデ板をバックに配置。
フェンダースケールネック。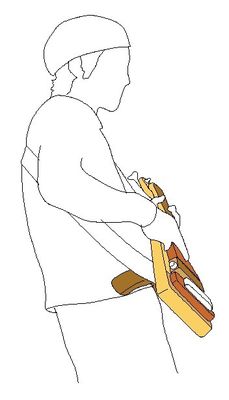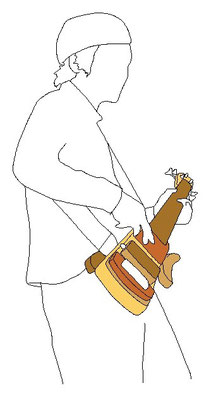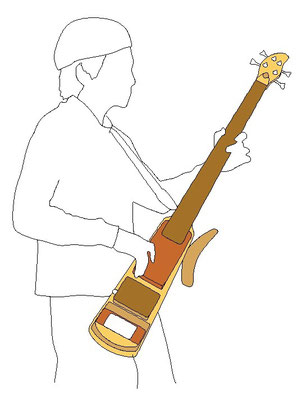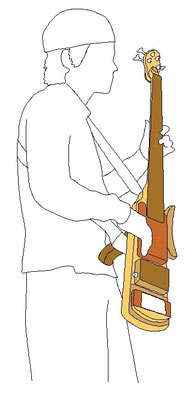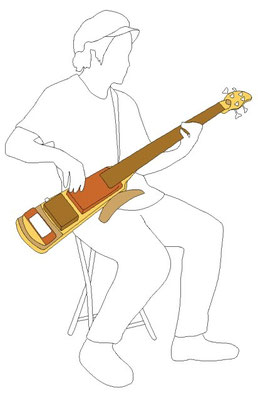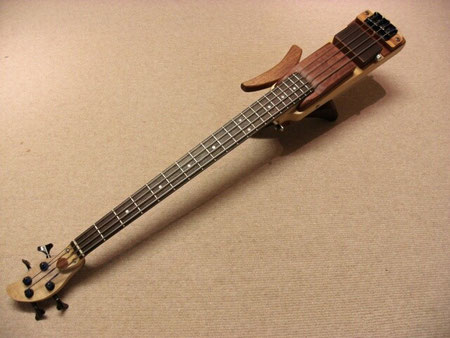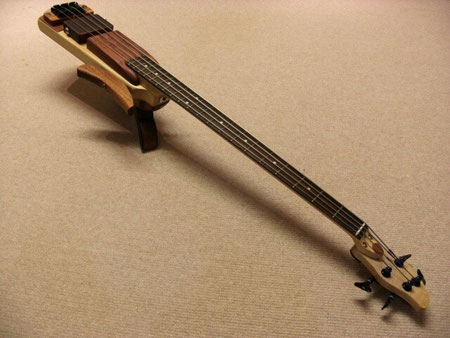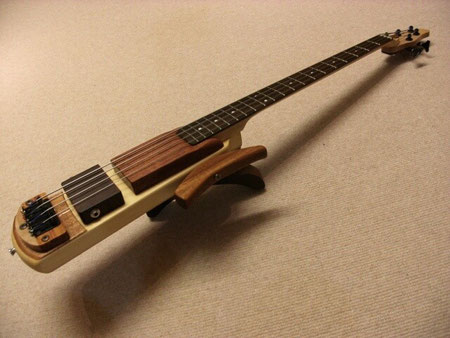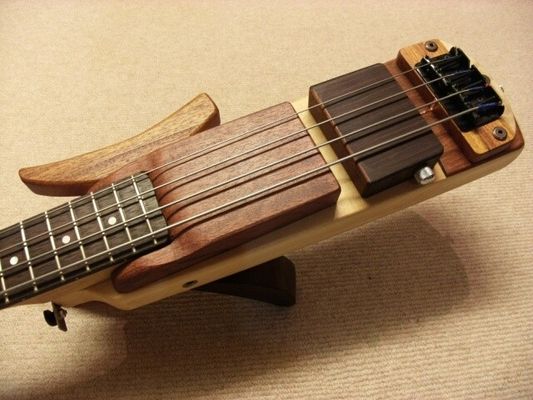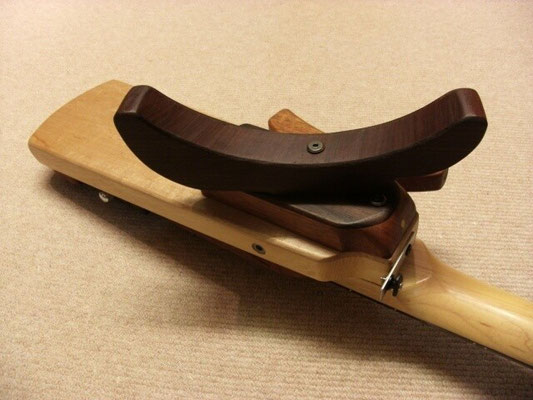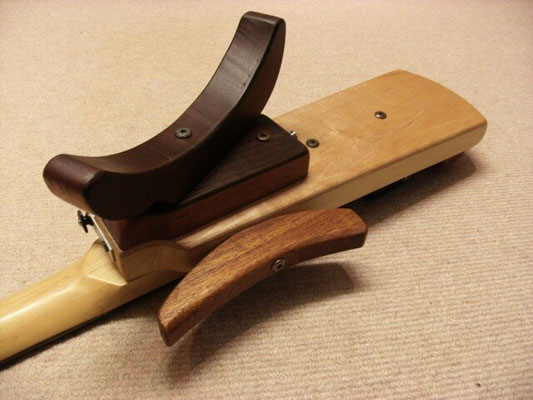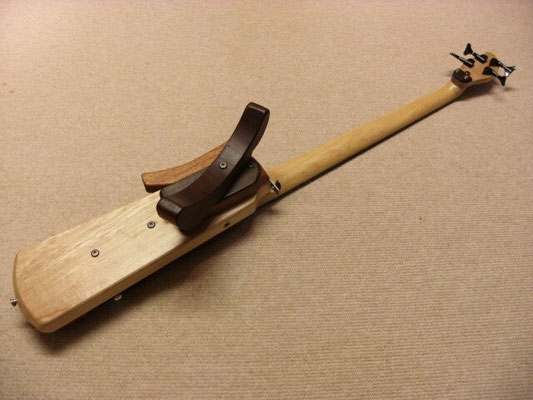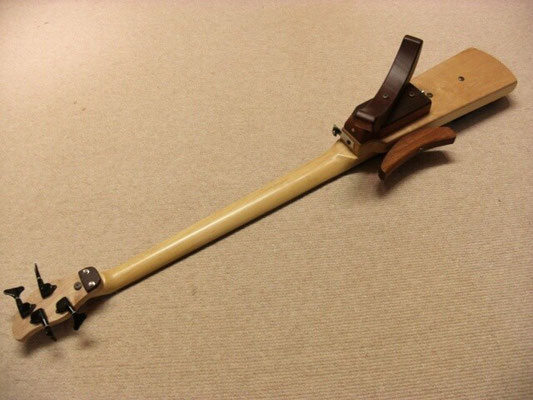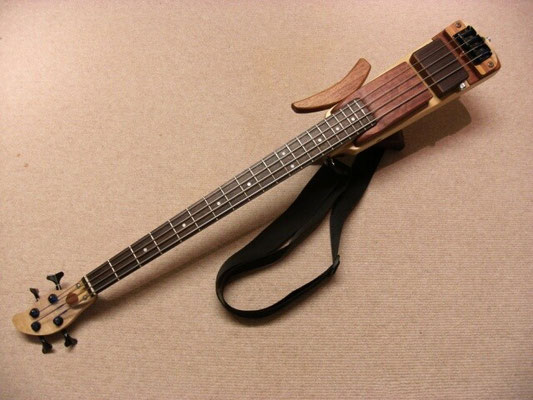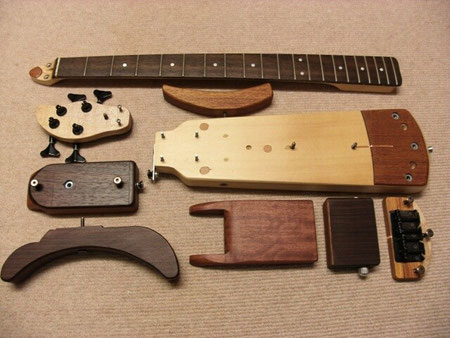 This wood block is for Neck-end cowl, Finger ramp and Finger rest.

このブロックは、ネックエンドのカバーでフィンガーランプでフィンガーレストのため。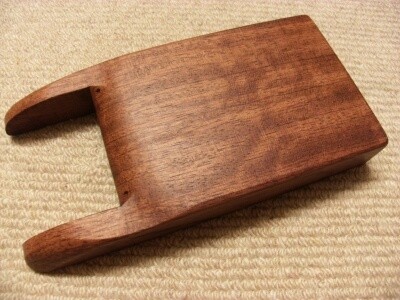 This is the Back support wood and it supports Bass and Player body.

これはバックサポートで、ベースとプレーヤーのボディをサポートするんです。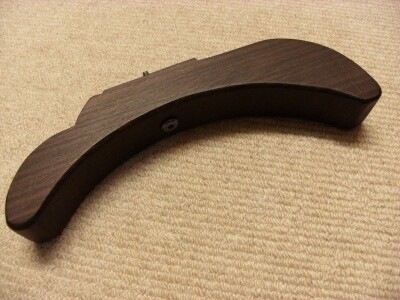 This wood block connects Back support and body. This block gives sustain by the adding of the neck joint thick. I think so ....

この木製のブロックはバックサポートとボディをつなぎます。このブロックはネックジョイントを厚くしてサスティンを与えます。私はそう考えます…。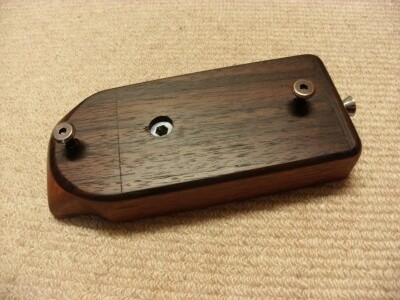 This is Leg rest for playing with chair.
これはレッグレストで座って弾くとき用。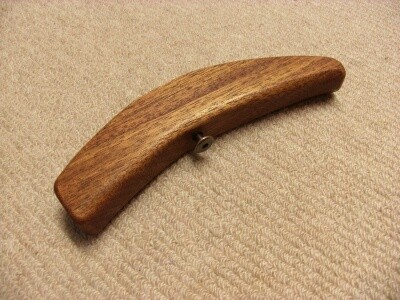 July.31.2015

Low-profile wood block on neck joint back.
低くしたネックジョイント裏のブロック。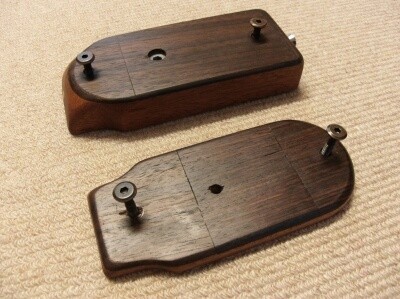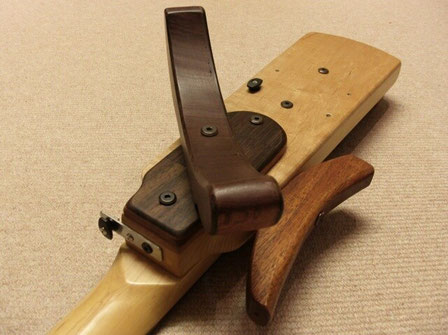 ---
---
Fat Mahogany Body.
Almost No Hokkaido Wood....
My policy is that the distance is between the string and the body, and that doesn't change from my first bass.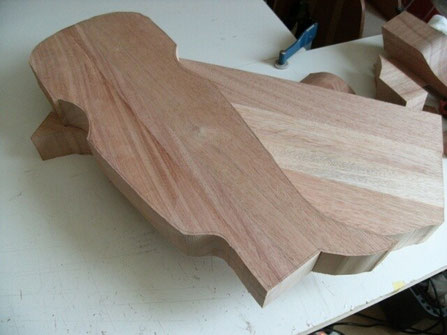 Jazz Bass style neck from ATLANSIA Parts Shop. Very beautiful neck.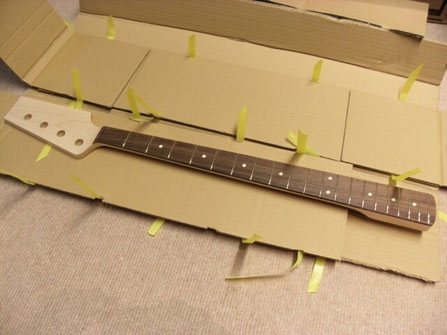 Under construction. According to Intonation check, bridge position should be moved to neck direction.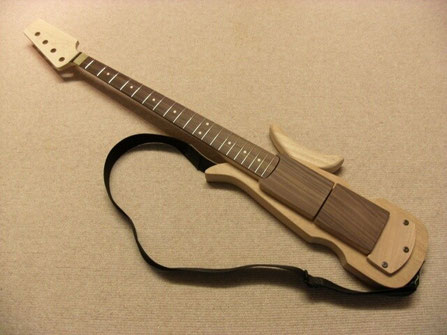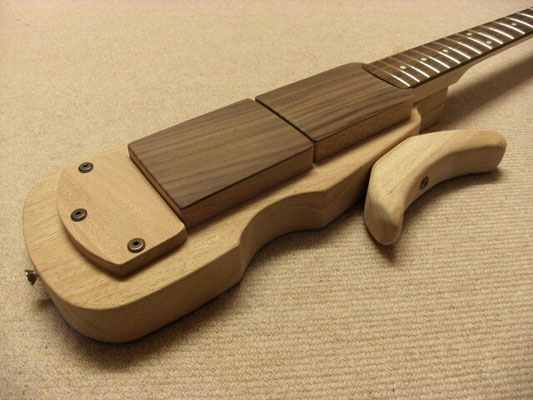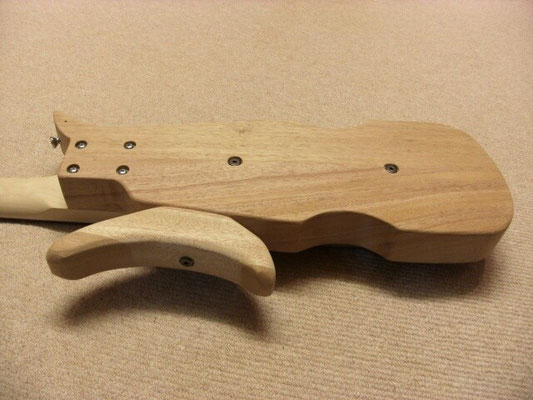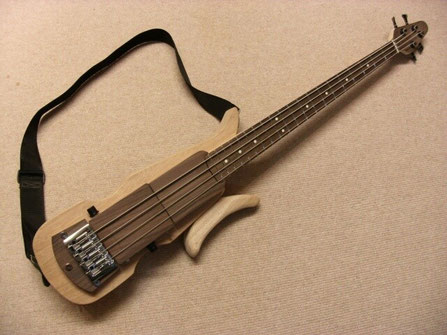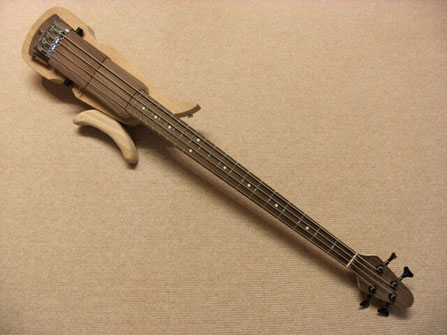 Good balance. Big back wing is not required.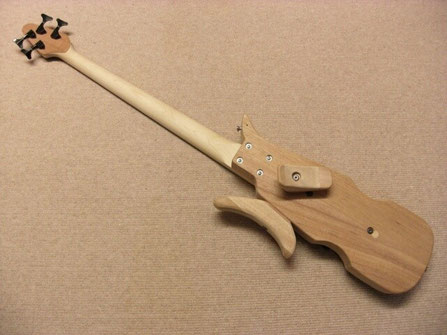 Volume, Tone and Output Jack. Serial/Parrarel switch for the connection of 2 Jazz Bass style PUs which are installed inside of box.
Head with thin rosewood plate.